Tamil Nadu Beach
Tamil Nadu, the southernmost state of India is hemmed by both Bay of Bengal and Indian Ocean. Both the seas provides a vast coastline and some exotic beaches. These beaches quite famous among the globetrotters for beach holidays. Apart from visiting the ancient temples and hill stations, vacationers also loves to spend some memorable moments on these vast expanses of golden sands.
Some of the ideal beach holiday destination in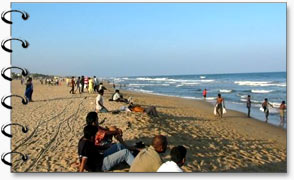 Tamil Nadu are
Marina Beach, Chennai:-Marina Beach is the pride possession of Chennai, the state capital. Heralded as the second longest beach in the world, Marina beach is located on the eastern side of Chennai, adjoining the Bay of Bengal. Everyday the 12 km long stretch of Marina beach attracts large number of tourists as well as local people for some fun moments. Watching sun rise and sun set from the beach is quite famous. In the evening, people engage themselves in various kinds of joy rides and loves to gorge on several snacks available on the beach.
It is an ideal site for water sports lover as it provides good surfing opportunities to them. This beach also has some fantastic sightseeing spots such as Senate-House, Chepauk Palace, Presidency College, P.W.D office and Ice House, a new lighthouse, sculpture of Victory of Labour and the Mahatma Gandhi etc.
Mahabalipauram Beach: Located just 60 km south of Chennai, Mahabalipuram beach is nestled on the shores of Bay of Bengal. Mahabalipuram beach was once a port of Pallavas. They have created many marvelous monuments with Sculptural Panels, Caves, Monolithic Rathas (chariots) and Temples at the vicinity of beach.
Rameshwaram Beach: It is an island situated off the mainland. This beach of Rameshwaram town is surrounded by Palk Strait and the Gulf of Mannar. Rameeshwaram is also famous as one of the oious pilgrimage destination of south India. Apart from its religious significance, the serene ambiance of Rameshwaram beach with shallow water makes it an ideal destination for swimming and sun bathing.
Kanyakumari Beach: Kanyakumari, famous as the end point of India. The beautiful beach of this tranquil town is hemmed by azure water of three vast seas namely Bay of Bengal, Indian Ocean, and Arabian sea. Thanks to the confluence of this three seas, it is also called as 'Triveni Sangamam'. From here on can enjoy breath taking view of sunrise and sunset. Kanyakumari beach is also popular for its marvelous assortment of multi-hued sand. While enjoying your beach holiday, you can also visit the Gandhi Mandapam, Kanyakumari Amman Temple, and the memorial of Swami Vivekananda.
Covelong Beach: Last but not the least, Covelong beach is another best destination for beach holiday in the state. Located away from the hustle and bustle of Chennai city, Covelong beach is a salubrious beach which is famous for a calm and relaxing beach holiday. It also offers numerous with fishing activities. Visit Tamil Nadu and explore the state as a beach holiday destination.